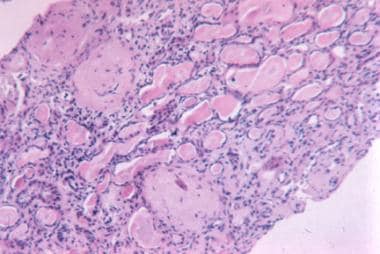 Lupus nephritis, one of the most serious manifestations of systemic lupus erythematosus (SLE), usually arises within 5 years of diagnosis; however, renal failure rarely occurs before American College of…
Gain a better understanding of the pathophysiology of lupus nephritis and learn about the best therapeutic strategies for this disease.
SLE is a chronic inflammatory disease that affects the kidneys in about 50% of patients. Lupus nephritis is a major risk factor for overall morbidity and mortality in SLE, and despite potent anti-inflammatory and immunosuppressive therapies still ends in CKD or ESRD for too many patients. This revie...
---
Microparticles in the blood of SLE patients may be a source of extracellular HMGB1, which is involved in immune response. Researchers found that analysis may be…
the-rheumatologist.org
arthritis-research.biomedcentral.com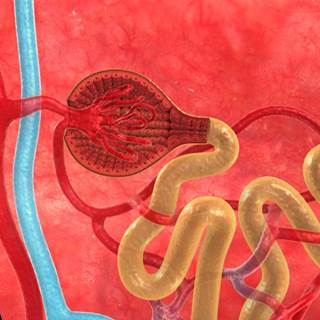 The Renal Activity Index for Lupus (RAIL) was developed utilizing urinary biomarkers of LN to avoid kidney biopsy.
---
MELBOURNE – Expression of six microRNAs in kidney biopsy samples helped to predict response to cyclophosphamide.
---
MELBOURNE – Dr. Frédéric Houssiau gives advice on comorbidity management and induction therapy in lupus nephritis, among other things.
Singh and colleagues have published a systematic review and Bayesian network metaanalyses of…
---
An induction regimen that includes a calcineurin inhibitor can help patients with acute lupus nephritis achieve complete or partial remission, early research suggests.
We are devoted to solving the mystery of lupus, one of the world's cruelest, most unpredictable, and devastating diseases, while giving caring support to those who…
lupus.org
---
linkinghub.elsevier.com
---
Read about a review study that supports eculizumab (Soliris) as a potential new treatment for SLE patients with renal involvement, called lupus nephritis.
---
Lupus nephritis (LN) is a complex chronic autoimmune disease of unknown etiology characterized by loss of tolerance against several self-antigens. Cytokines are…
arthritis-research.biomedcentral.com