Achieving remission in rheumatoid arthritis may depend on which disease activity measure you use.
rheumatologynetwork.com
---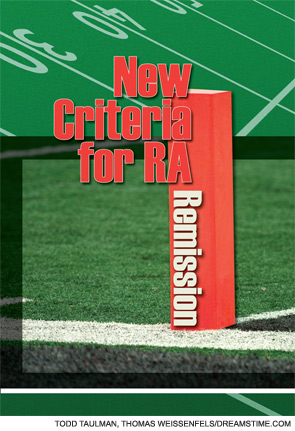 the-rheumatologist.org
---
clinexprheumatol.org
---
Concomitant methotrexate helps, disease factors hurt
Patients with rheumatoid arthritis treated with…
healio.com
Factors favouring remission sustainability are:
1) Combination therapy of csDMARD (MTX) with a biologic DMARD (anti-TNF)
2) Baseline lower disease activity & functional impairment, fewer tender joints
3) Lesser steroid use
4) Male
5) Younger
6) Shorter disease duration
7) Achieving remission by 16 weeks of therapy.
---
The target of treatment in RA (and most if not all rheumatic diseases) is REMISSION, if achievable. Increasingly, with so many effective targeted drugs rushing to market, and employed by rheumatologists in sensible and validated strategies, the answer is YES!
Problems are:
1) Rheumatologists define remission somewhat differently, though we are converging towards a clinically stringent Boolean set of criteria (no more than 1 swollen/tender joint, normal CRP, patient feels >90% well);
2) Whose remission is it anyway? Rheumatologist's or patient's? Who has ultimate say? Patient, of course. Once we're clear on that, we can start strategising.
On strategy, front-loading biologic treatment in combination with MTX is more likely to achieve deep remission, achieve it earlier, is safer, and sustains remission longer.